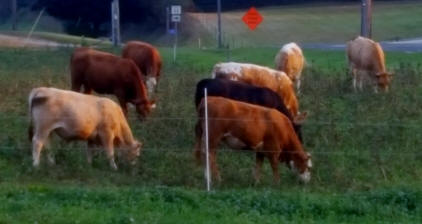 The Piedmont region of Northwest Italy is a secluded pocket, naturally protected by the Alps Mountains. An ancient European cattle called the Aurochs populated this region. Some 25,000 years ago, a type of cattle known as Zebu began a massive migration from Pakistan. These distinct breeds crossbred to become the Piedmontese.
Throughout years of selective breeding and isolation of these breeds - the Piedmontese cattle developed a characteristic known as "double muscling". This means that the cattle have more cell mass per muscle and less fat. Scientists, like Dr. Harlan Ritchie, Professor of Animal Science, at Michigan State University, have studied their genetic characteristics and nutritionists have documented their health and nutritional benefits. They confirm that a 50% or greater Piedmontese cross was a perfect source of high quality protein. They also confirmed that it has 8 essential amino acids. It is an excellent source of B vitamins, such as niacin and riboflavin, and a great source of zinc. The nutritionists also discovered that it is extremely "low in fat and cholesterol". Piedmontese beef has less fat and cholesterol than skinless chicken and, of course, it has fewer calories too!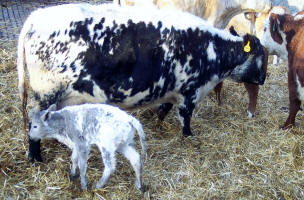 We produce quality beef in conjunction with The Piedmontese Association of the United States for the production of Piedmontese Beef. We raise meat for private sale, which is processed by Kewaskum Frozen Foods, located in Kewaskum, Wisconsin. We meet all State inspection standards.
Because Piedmontese Beef is naturally lower in fat, it cooks in 1/3 less time than traditional beef. For best results, be careful to not overcook! Cook the meat very slowly or quickly--never in between. You will find it tastes best when cooked to an internal temperature of 145 to 150 degrees, just as you would cook a medium to rare cut of traditional beef.
Nutrition comparison Chart:
per3.5oz
Calories
Total
Saturated
""'119
Calories
from fat
fat
fat (g)
Cholesterol
Protein
(g)
Piedmontese
104
16.5
1.9
0.6
31.5
21.6
Chicken
119
27.7
3.1
0.8
70
21.2
(skinless)
Beef
287
212.0
23.6
10.1
70
17.5
(traditional)
Pork
275
202.5
22.5
8.1
72
16.7
Turkey
110
14.2
1.6
0.5
73
22.3
(skinless)
Salmon
116
31.0
3.4
0.5
52
19.9
Source: Warren Analytical Laboratory 1997 Comparison Source: USDA Handbook #8 Copyright 1998 Rose & Rose Data Source
Some Information provided by The Piedmontese Association of the United states